Events are subject to cancellation or other changes. Call ahead or check schedule for updates prior to attending.
Appearances by Margie Kay in 2013





Psychic Studies Institute: 2013 and Beyond: Friday, March 8, 2013, 7:30 pm
Unity Temple on the Plaza
707 W 47th Street, Kansas City, MO 64112
$5 PSI members, $10 public
Margie Kay, Steffany Barton, Patricia Sneed, Linda DeFeo: The panel will present what they see for the New Year and beyond and answer general questions from the audience.
Ozark UFO Conference April 12-14: Eureka Springs, Arkansas. Visit Margie Kay at her booth at this event. She will have her new edition of the book
Gateway to the Dead: A Ghost Hunter's Field Guide
on display for the first time at this event!
www.ozarkufoconference.com
.
KGRA PARACON 2013: September 13 - 14, 2013:
Unity Temple on the Plaza, Kansas City, Missouri. Margie will be speaking about Commander Valiant Thor, who visited the Pentagon and our leaders in the late 1950's, and his contacts with humans since. Other speakers at this event: Stanton Friedman, Richard Dolan, Paola Harris, Ted Phillips, Chase Kloetzke, Chad Morin, Joe Chin, Joe Palermo, Jason Offutt, Micha Hanks, Grant Cameron. Visit
www.kgraparacon.com
for more info.
Truman Library, Independence, Missouri
Saturday, October 12, 2013
11:00 - 11:45 am
500 W Hwy 24
Independence, MO
Founded in 1827, Independence, Missouri has an incredibly rich history of pioneers traveling through on the trails, Civil War battles, the Cholera epidemic of 1849-1851, and more. Margie Kay, Director of QUEST Investigation Group, Author of Haunted Independence, and host of Un-X News Radio Show, is a paranormal researcher and clairvoyant. She relates tales of her encounters while investigating 56 historic sites in Harry Truman's hometown including restaurants, parks, cemeteries, residences, and buildings. You may be surprised to find that some of your favorite hangouts are very haunted! Visit www.margiekay.com for more information. Margie will do a book signing after her talk. Free talk with your admission ticket to the library.
_______________________________________________________________________
The Gathering
By invitation only
October 25,26,27
Margie will be presenting a Free Energy workshop and a lecture at this event.



__________________________________________________________________________________________________________
Appearances by Margie Kay in 2012
January 18, 2011: St. Louis MUFON - 2012: One Year to Go. Margie Kay's predictions for the coming year and beyond December 21, 2012, the UFO Flap in Kansas City in 2011, and Margie will do some body scan readings for audience members. Visit
www.missourimufon.org
for more information. The public is welcome. Margie will do a book signing after the lecture.
February 3, 2011: Predictions for 2012 for the PSI group. This is a private meeting.

March 9, 2012: Communiversity Class:
UFOs and Close Encounters in Kansas City. Course Number 7301 A. Find out about the recent UFO Flap in Kansas City and hear about some amazing close encounters that witnesses have had in the greater Kansas City area. See amazing photos and video taken by witnesses. Missouri MUFON took 85 sighting reports in October, 2011 and has been receiving an increase in sighting reports since May of 2011. For some reason UFOs have an interest in the K.C. area. Missouri MUFON Assistant State Director Margie Kay is the convener. Class fee $9.00. Location: Student Union Room 302, 5100 Cherry, UMKC Campus, KCMO. Metered parking lot on the north side, one building to the north. Attendees MUST pre-register at
www.umkc.edu/commu
March 10, 2012: Mystic - the Margie Kay Story.
Lecture and book signing at the Main Street Galleria Upstairs Tea Room at 501 Main street in Weston, Missouri. Hear about Margie's amazing story, her contacts with ET's who have given her special abilities including clairvoyance, clairaudience, clairsentience, the ability to speak to the dead and look inside the human body to diagnose issues, and remote view. Margie's work with law enforcement has helped to solve over 40 missing person, theft, and homicide cases. Margie Kay is the Assistant State Director for Missouri MUFON, the Director of QUEST Investigation Group, talk radio show host, author and film producer. Make reservations and payments with the Galleria. Dinner included. Margie will do a book signing after the lecture. Main Street Galleria Upstairs Tea Room at 501 Main street in Weston, Missouri.
www.westongalleria.com
(816) 640-2825
March 21, 2012: Margie will be appearing live on
Truth Theorem Radio
at 6:40 PM. If you missed the show listen to the podcast
here
: Truth Theorum is an online venue for Truth seekers who feel that getting to the Truth doesn't have to be a mind numbing and humorless experience. They discuss all things paranormal and sometimes things a little more normal. They talk to the boots on the ground people doing the hard research who are looking to discover the Truth. With over fifteen years of combined paranormal research experience and no real Truth to show for it, Warren and Jason appeal to the listener to join them in an open and honest dialog with Scientific Experts, Paranormal Research Teams, Authors, Psychics, Ufologists, Crypto Zoologists, Alien Researchers, Alien Abductees, Demonologists, and even a few Nuts, Quacks, and Mental Cases, in an effort to uncover, reveal, and expose, what we commonly refer to as TRUTH.
March 30, 2012
: Margie is a guest on the Metaphysician Radio Show with Bobby Keegan on the Project Freedom Radio Network out of Belleville, Ontario Canada. Live at 4 pm.EST, podcasts are available.
March 30, 2012:
Margie launches her new radio show "Un-X News Radio" on Global Radio Alliance Network at 8 pm Eastern. Her first guest will be Chuck Zukowski, noted animal mutilation expert in Colorado Springs, Co. and owner of
www.ufonut.com
. See more information on the
Un-X News Radio page
on this website.
April 7, 2012
: Margie is a guest speaker at the Star Party Workshop in Stillwell, Kansas hosted by Gail Larmer. By invitation only. Margie and five other Star People contactees will share their experiences and what they have learned.
April 12 - 23:
Margie is an instructor at a workshop for Masonry Heater builders in North Carolina- where she will learn and teach about fire. Note: Margie is a fire sign and very connected to the fire energy. She plans to host a program on that topic soon.
April 30:
Margie is a guest on Alejandro Rojas'
radio show
UFO Think Tank. The podcast is available anytime on this site. Margie talks about her remote viewing work with missing person and homicide cases, encounters with UFOs and what is coming in 2012.
May 18: Un-X Radio Show with Guest Debbie Ziegelmeyer, state director of Missouri MUFON talks about UFO's and balls of lights in Missouri and her Cattle mutilation investigations.
May 20, 2012: Missouri MUFON Conference: High Strangeness in Missouri
. Margie will present :The Kansas City UFO Flap of 2011, a lecture on the incredible number of UFO sightings in the greater K.C. area during 2011. In October, MUFON International reported 87 sightings in K.C. alone, which was the highest number reported anywhere in the world. Missouri has not had a UFO flap like this since the Piedmont UFO Flap of 1973 - 74. Both flaps gained national media attention. The investigations are ongoing. Some witnesses continue to have experiences and sightings. See amazing photos taken by witnesses of UFOs, some within feet of the witnesses, and see video of witness interviews. Margie will also discuss the cattle mutilation case in January of 2012. Visit www.missourimufon.org for more information on the conference.
June 15 2012: The Kansas City UFO Flap of 2011:
Margie will be the guest lecturer at the Psychic Studies Institute. Hear about the phenomenal UFO sightings and close encounters in Kansas City in 2011 and the UFO Flap in October of 2011 which caused a media frenzy. Psychic Studies Institute, Unity Temple on the plaza 7:30 PM.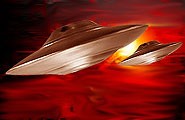 June 20, 2012:
Margie is a guest on UFO Undercover Radio with host Joe Montaldo.
http://www.ufoundercover.homestead.com
As an abduction researcher for over 25 years,
Joe Montaldo
is uniquely qualified to bring you live interviews with some of the most well known researchers in ufology.
UFO Undercover
also brings you some of the most revealing and current research being done on alien abductions and alien contact.With audience particpation through our "virtual auditorium" chat room on Paltalk and, audience call in questions at:1-504-273-7379. Margie will be disussing the ongoing UFO Flap in Kansas City, her books, and Un-X News Magazine.
June 24, 2012:
7:30 pm CST Margie is a guest on Beyond the Edge Radio at
www.beyondtheedgeradio.com
Eric Altman, Lon Strickler, and the crew bring you the best in Alternative Talk Radio that promises to take you... Beyond The Edge. With the FRESH topics, great guests and an all around bizarre time, you never know what to expect! Tune in to find out what all the talk is about. Listen live by clicking on the listen live and chat tab and click listen live or visit
www.jackaloperadio.com
Toll free number to call into the show-1-877-677-2858
September 3, 2012: Travis Walton hosted by Un-X News Radio and Missouri MUFON. Margie Kay will be MCing the event. Visit www.missourimufon.org for more info.
September - October, 2012:
Margie will be doing a book signing tour at bookstores in Missouri and Kansas.

September 16, 2012:
Margie is a guest on Lorin Cutts' High Strangeness radio show at 8 PM on www.globalradioalliance.com. Kay talks about her experience as a remote viewer and ET experiencer, and some of her more fascinating encounters, including predictions for future events shown to her by ETs.

Star People Gathering 2012, October 12 - 14:
Margie Kay is a guest speaker at this unique event in Warsaw, MIssouri hosted by Judy White Wolf. Margie will conduct a dowsing workshop here. Learn how to dowse using pendulums and dowsing rods. See this
PDF download
for more information and to register.
October, 19, 2012
:
Haunted Kansas City:
Margie will be the guest lecturer at the Psychic Studies Institute. Hear about haunted sites in Kansas City, Lee's Summit, Blue Springs, and Independence, Missouri that Margie and the Quest Investigation group have investigated, and hear about Margie's own very haunted house. Many of these sites are open to the public and many have not been discussed in books written on the subject. Margie will do a book signing afterward for her books Haunted Independence and the Ghost Hunter's Field Guide. Psychic Studies Institute, Unity Temple on the plaza 7:30 PM.
October 20, 2012: Haunted Kansas City:
Margie is the guest speaker at the Weston Main Street Galleria Tea Room in Weston, Missouri. Open to the public. Dinner included. Please contact the Galleria for more information (see below)
Main Street Galleria

Upstairs Tea Room Dinner Theater
Proudly Presents
Ghost Tales of Weston
Local Wines & Beers Available
October 20 & 26, 27

Dinner & Play start at 7:00 pm
$23.50 per person
Accepting reservations now.

816-640-2825
email: westongalleria@gmail.com

UpStairs Tea Room above Main Street Galleria on the Corner, 501 Main Street, Weston, MO

October 23, 2012: Haunted Independence talk at the Kiwanus Club luncheon, Ophelia's Restaurant, 201 N Main St. Independence, Missouri www.independencekiwanisclub.org

October 26, 2012: Haunted Independence private bus tour and dinner with Margie Kay for Hawthorne Bank Customers. If you are a customer of this bank, give them a call to register.

November 4, 2012: Margie is a guest on the Paracast radio show. Gene and Chris present Margie Kay, Assistant State Director for Missouri MUFON for a very nuts and bolts UFO session. The main focus will be what Margie regards as "an extraordinary number of sightings in Kansas City during two UFO flaps in 2011 and 2012 with some amazing close encounters, missing time, and possible abductions. I even had my own sightings along with other witnesses." She'll also be discussing various paranormal events, such as weird sounds reported by some people in her area.
NOW PLAYING! November 4, 2012 — Margie Kay NOW PLAYING! November 4, 2012 — Margie Kay

December 1 - 31: Margie Kay will not be doing her Radio Show this month due to her busy schedule. Shows will resume in January.
December 21, 2012: Gathering with the family and waiting to see what happens!

__________________________________

If you would like to schedule a lecture or book signing event, please contact Margie's assistant Tamie Dorsh
at 816-833-1602 or tamie_dorsch@yahoo.com